Ven.Dr. Akuretiye Nanda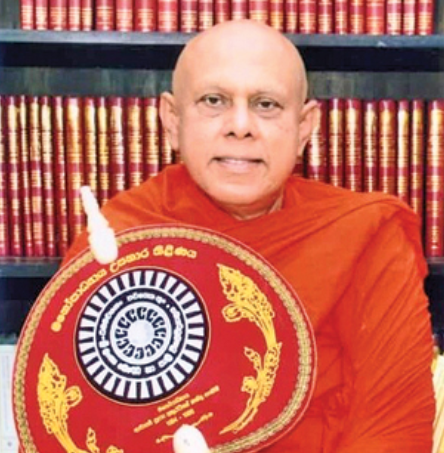 Ven.Dr. Akuretiye Nanda
Chancellor- University of Ruhuna
It is with great pleasure that I am issuing this message for the official website of the University of Ruhuna as the Chancellor of the University.
Ruhuna University College started on 27.08.1978 with four faculties and later was renamed as University of Ruhuna in February 1984. Courtesy a breath-taking architectural design by Geoffrey Bawa and Dr. Ronnie De Mel's ceaseless efforts, the university stands in grandeur today, as the sole university and academic hub in the Southern Province. From times immemorial, Southern Province has produced many renowned scholars, administrators, artists, sports stars and entrepreneurs in the history of Sri Lanka. Kumaratunga Munidasa, Martin Wickramasinghe, Ananda Rajakaruna, Gajaman Nona and members of the royalty such as King Dutugemunu, and Vijayabahu I are only a handful of these resourceful southerners who have conquered both national and international arenas. This quest for excellence and love for the nation is at the heart of The University of Ruhuna and anybody who joins its community is expected to inculcate and bear it timelessly.
Set in a serene environment that is relaxing for local and foreign undergraduates to immerse in academic and research activities, University of Ruhuna is constantly striving to meet the latest educational needs of graduates and postgraduates in the modern context. The academic staff at the university is dynamic, up-to date and well trained to deliver and share their academic excellence and expertise with the students, while encouraging constant research and development in their relevant fields. This valuable human resource in unison with fully fledged physical resources and infrastructure makes the University of Ruhuna, a formidable hub for research and academics.
Thus, each person embarking on a journey of higher education at the University of Ruhuna could be considered as privileged and blessed. While enjoying its benefits, it is the duty and responsibility of every member of the university community to secure the goodwill of the place and stand out as a brilliant individual among other academics in the country.
I wish the blessings of the Triple Gems for your career and life.
Ven.Dr. Akuretiye Nanda
Chancellor
University of Ruhuna